As part of the Skeleton-Man universe has been created a series of unique light paintings. Paintings vary in sizes from 30x30cm to 120x120cm and consists of laser cut Glow-In-The-Dark transfer paper shaped as bones heated and pressed onto a black cotton canvas. Lightning around the bones provided by strings of multi coloured Wire powered by a small driver and a regular 220-230V electric outlet.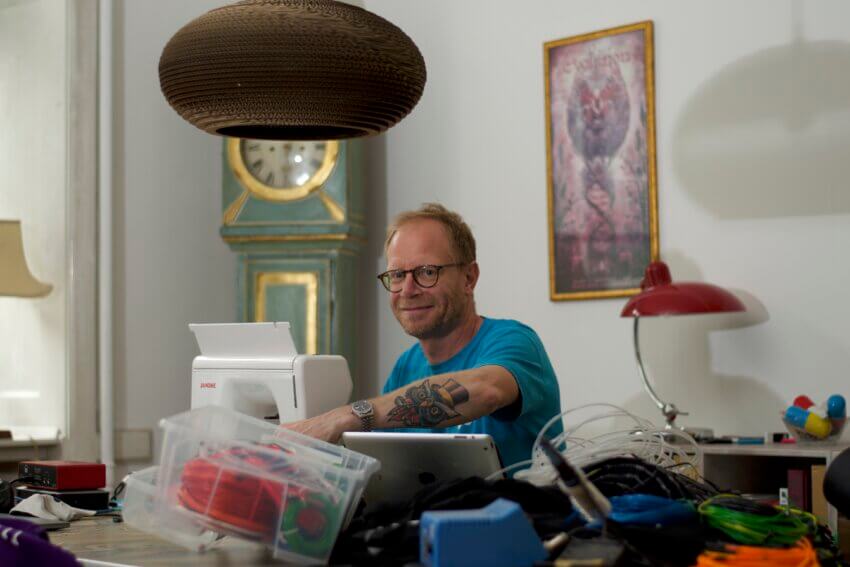 Custom tailored t-shirts can be made from order. The lightning wire on t-shirts provided by pocket size drivers powered by two regular AA batteries.
The Skeleton-Man Art & Merchandise pieces attempts at dissolving the boundaries between medium, artist and audience. By offering Skeleton-Man art pieces that are equally well suited for exhibition purposes or as a fashion statement, the art pieces offers an interactive and self-reflexive, meta performance. As such, the art pieces in the Skeleton-Man universe breaks down all traditional art barriers while offering a fun, engaging and light hearted (pun intended) experience aimed at all, no matter, nationality, culture, gender or age.

Michael Wolffhechel, Creator of Skeleton-Man
For more information, prices and shipping info please contact info@skeleton-man.com.