Introduction
What is anything worth if nothing is permanent and all living will die? Why hold on to life if it feels like a valley of pain? How to be happy and content? How to find meaning in life – and the courage to pursue it?
These are some of the questions that the existential tradition deals with. They may sound cynical or morbid but nothing could be further from the truth. Yes, existentialism talks about death but only to celebrate life in all its' facets. Hopefully, your life contains lots of joyful and sorrow free moments but they are not difficult to deal with. When we are happy, we are happy. No, existentialism is concerned with those times when we are not happy. When life is difficult and one may think life only consists of hardship and pain. What do we do in those situations? Where can we turn if all we feel is sorrow and meaninglessness?
This is why existentialism is so rewarding. Like nothing else the existential tradition can put life's hardships and challenges in perspective. As such, existentialism can light a light when all seems dark. And light up A SUN when the most important concerns of life for a moment falls into place and you see everything clearly.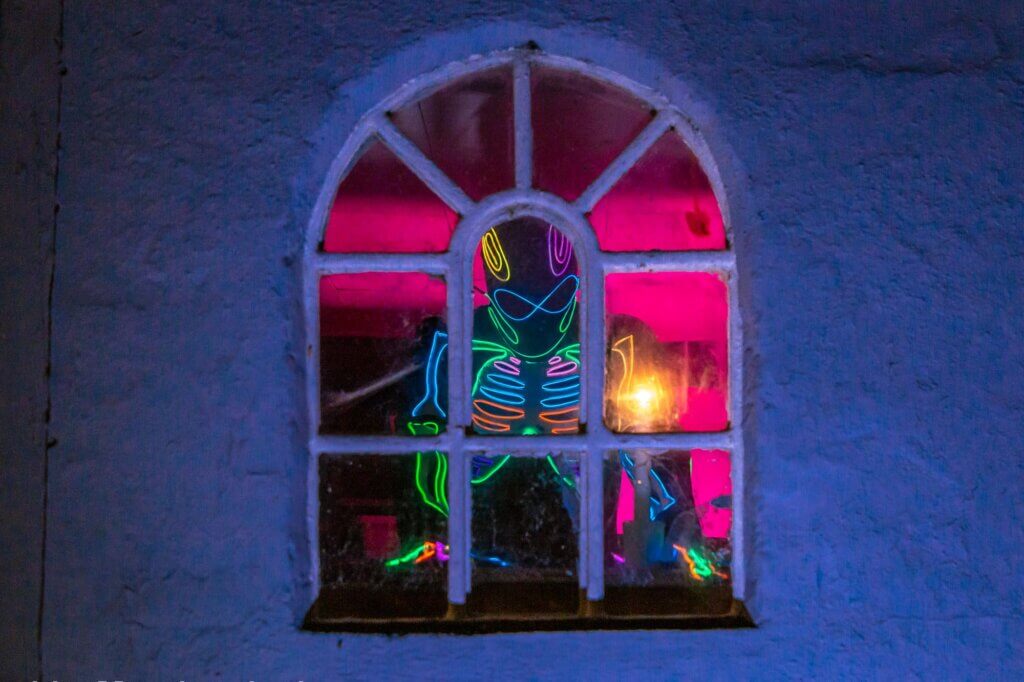 Death: The High Price of Living
In his new show "Death: The High Price of Living" Skeleton-Man will be your guide and captain as we explore these questions in an existential Tour de Force.
The investigation will take us well into philosophical and religious lands. It is important to stress, however, that the topics are in no way complicated. All humans have "deep thoughts" now and then and there is nothing inherently difficult about these thoughts.
To reap the full benefits, however, a few things may be beneficial. First of all, words of wisdom from some of the greatest thinkers through the ages can come in handy. All the way back to Socrates and Plato great men and women have struggled with the same questions and one would be a fool not to consider what they found meaningful, worthwhile and sound.
Secondly, sharing thoughts and feelings with our fellow brothers and sisters is a powerful way (perhaps the most powerful way) of cutting the questions down to size. If the thought of death can fill us with terror, learning that we are not alone in our struggles can, perhaps, give us a little comfort and ease our sense of loneliness. We may be in our own boats but at least we are in the same ocean! The show, therefore, also encourages a lively debate.
The Contents of the Show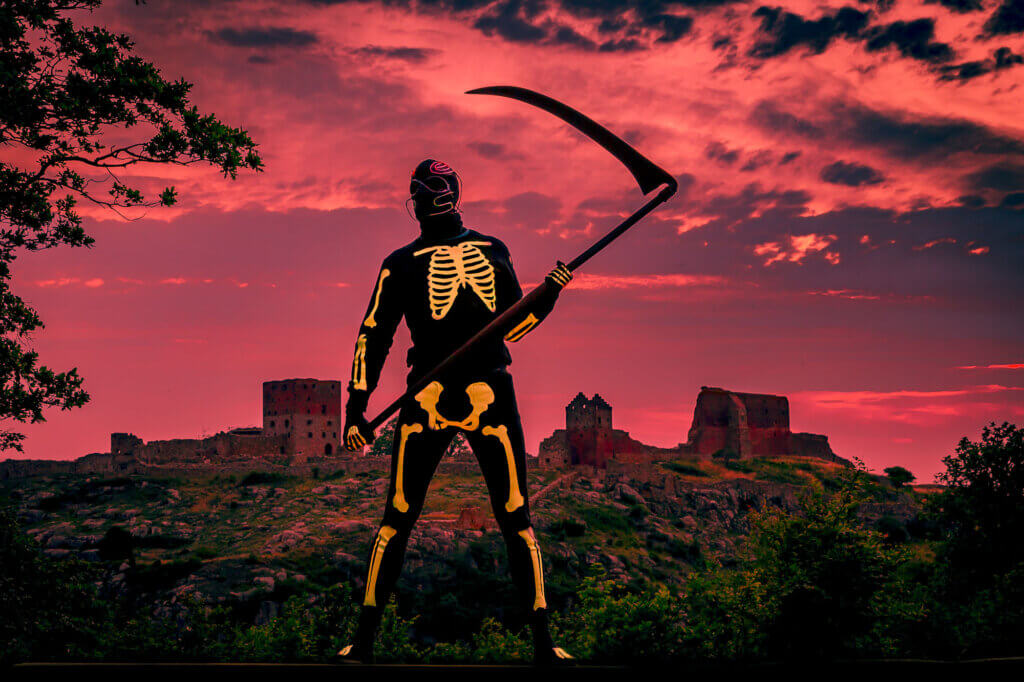 Besides a verbal presentation of the topics the show includes sounds and lightening and a power-packed performance by Skeleton-Man.
In addition, since 2018 the Skeleton-Man project has collaborated with internationally acclaimed photographer, Semko Balcerski. Death: The High Price of Living, therefore, features unique and powerful imagery that backs up the different aspects of the show.
And, of course, Skeleton-Man will serve as your colourful and entertaining captain that will guide you through the show with no man left behind.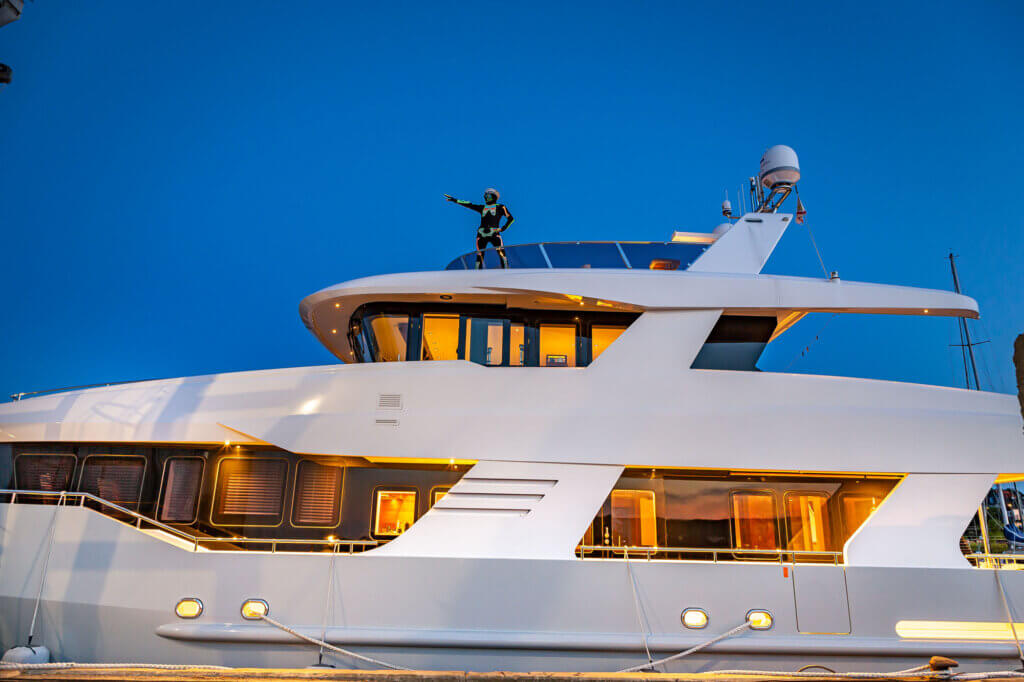 On the one hand, all these efforts are designed to overwhelm the audience with their aesthetics. On the other hand, there is an undercurrent to them that is designed to pull the audience out on deeper waters where the big questions of existence becomes more natural to contemplate.
Put in other words, Death: The High Price of Living is our suggestion for a modern day death ritual. A ceremonial gathering, of sorts, where we consider the idea of personal death using modern tools, images, sounds and lights. Where the audience subtly, but potently, is nudged to challenge everyday beliefs and practices. And where the audience exit, perhaps, a little confused and overwhelmed, but – more than anything!! – with a renewed sense of proportionality, life appetite and a thirst and lust for making every day count.
Existentialism at the Work Place
The existential conditions of life is the foundation on which all else in existence rests. Naturally, then, they also have an effect on how we conduct ourselves at the work place.
This is easy to recognise when we consider man's pursuit of meaning that is a powerful work place motivator. The terror of death, however, plays out at the work place with even more might. It can unleash enormous energy resources but can also lead to workaholism, a futile quest for perfection or reluctance towards change. Similarly, the terror of personal freedom or loneliness can result in strained working relations where both management and employees unwittingly cripple what could be much more fruitful and liberating working relationships.
Note that existentialism does not offer any quick fixes for these types of situations and challenges! For that the problems and questions are too broad and existentialism too slippery. When working relations are viewed from an existential perspective we are likely to ask new questions, though. In turn, this may open our eyes for new ways of collaborating or of welcoming change that is to the benefit of all parties.
The subject of Organisational Existentialism is especially relevant when the show is performed in an organisational setting (commercial businesses and public offices) and can be adjusted to comprise a smaller or larger part of the show.
To learn more about Organisational Existentialism see a separate blog post on the topic here.
A Show for All Audiences
Death: The High Price of Living is designed to appeal to a wide range of audiences, particularly, commercial businesses, public offices, educational institutions, confirmation preparation classes and libraries. While the basic frame remains the same the show can be customised to reflect the different audiences, eg. organisational issues in the light of the existential tradition, the existential challenges of young people in a SoMe-age or the answer from religion with regards to confirmation preparation.
Skeleton-Man looks forward to welcoming you onboard the journey that has a duration of about 50 minutes. The show is followed by a Q&A and/or a DJ Skeleton-Man performance to immediately celebrate life with music, dance and togetherness.
To learn more about the show or to book a performance feel free to contact me here.
Lastly, if you enjoyed this presentation of Death: The High Price of Living do sign up for the Newsletter to receive notifications of forthcoming blog posts.